Page 5 of 5
(14 months passed before Frank Leyden and his friends had the opportunity to ski the slopes on the North-East side of Twynam West Spur).
Dawned perfect sunny fine day with very light wind, but slightly more wind than previous morning. Wind was coming from West to SW. Left Chalet with a party of 9 skiers at 9.40am on soft spring snow. No ice down to Formans; good run; dull leaden sky extending from SW with mist coming over Carruthers. Climbed Carruthers Ridge in soft, pasty Spring snow up to cornice in "Sunset Valley" (Site of the KAC Downhill). Arrived 11.30am. Twynam Trig approx due North. Climbed up to left around a little valley with Blue Lake & Evidence Valley on the right, Twynam in front and Sentinel Peak on left. Crossed to saddle between Twynam and the Snow Peak on Twynam West Spur (now known as Tenison Woods Knoll). Arrived 12.15pm.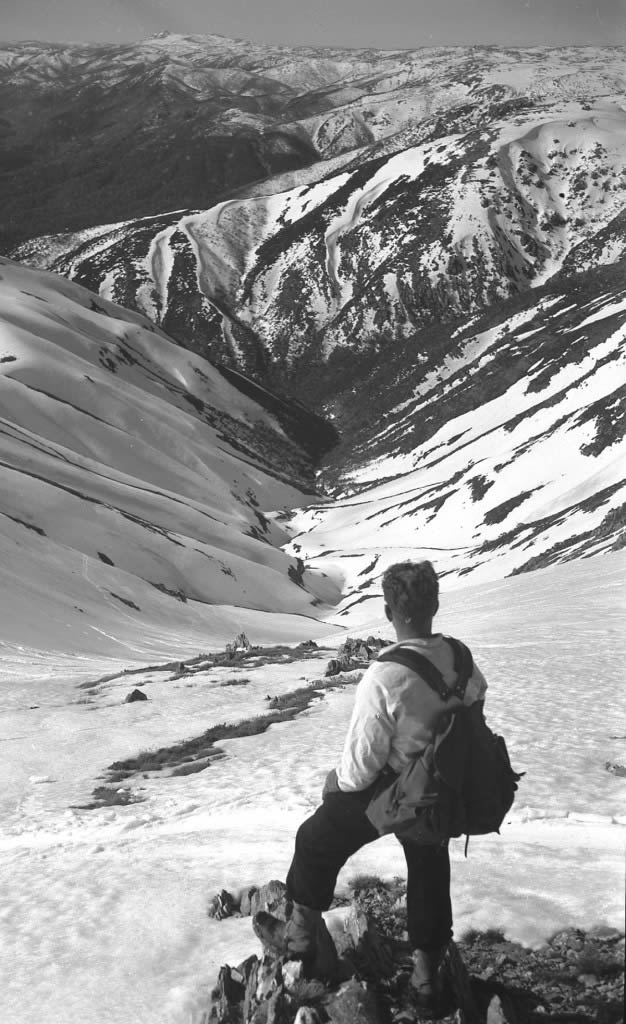 By now mist had cleared away leaving sunshine and spots of cloud from the dissolving mist. Took photo from rocks looking down straight into Watsons Gorge Creek (Photo No. 14) then climbed Snow Peak. Clear & sunny – excellent views. Richard picked spot to run down by dropping about 3 or 4 feet over a vertical edge (cornice) then a very steep left traverse on the North side of the Snow Peak at a rocky outcrop. (Photo No. 15).
Richard & Trude went over, then Edgar, then Hedi, who fell at the start & went head-first down the steep slope for about 100 feet (30m) hitting rocks & fonally stopping against a large rock; fortunately not badly hurt and, after a time, was able to continue the run down. After first steep part, opened into magnificent and reasonably easy run on excellent snow (best Spring snow since the Arlberg, according to Richard). They turned and ran down to a patch of grass & lunched. Manfred then ran from top down to join them, whilst the remaining four members stayed & lunched on a rock at the top of the run. Bert & I ran out for about ½ mile along Twynam West Spur to Watsons Crags. (Frank took photo of the five sets of ski tracks, presented as Photo 15). Two easy ridges down off the spur were noted. (Frank then came back to lunch spot where they were joined by Richard and his four companions who had climbed back up from the bottom of the run).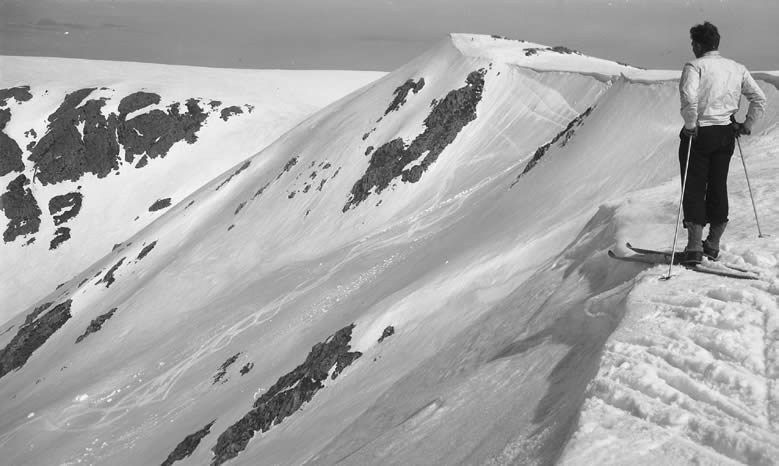 We then came back along our tracks, leaving the saddle about 3pm. Diverted to saddle between Carruthers & Sentinel Peak Spur to see Eric Einingers western run from Carruthers into this valley.
Then traversed onto Carruthers Spur to run to Formans in good soft Spring snow. Departed top of Carruthers at 4.00pm and arrived at Foremans at 4.15pm and rested. Richard, Trude & I climbed Stillwell cornice & ran down hardest snow of day to Chalet, arriving 5.30pm. Weather perfect & hot all afternoon. Sunburn fierce requiring plenty of cream. Some streaky fairly thick cloud over Main Range before their last run down.
(A few days later on Monday 4 October, Frank and his friends went from the Chalet to Smiggins by snowmobiles and then walked to Hotel. Had 12 noon lunch at Hotel and caught 2.00pm bus to Jindabyne and Cooma. Caught night train back to Sydney)