Page 3 of 5
Pounds Creek Hut 22 August 1945
Pounds Hut in good condition with 6 beds & 5 mattresses. Fire burns & heats well. Some cutlery & billies but no tea. 5 chairs with backs, 2 good tables. 3 cans.
Thursday August 23. (Second perfect day on this trip).
Cloudy & still with clear patches of sky in morning – good prospects for a fine day. Departed 9:30am. Across Snowy after going half a mile up Spencer Creek looking for a rock crossing and then using snow bridge on Snowy at Junction (10.30am). Saddle between Twynam & Tate opposite Mt. Anderson – 12:00 noon. Reached summit of Mt. Anderson at 12.30pm and skied down to Friars Alp (first knob in trees – 1:00pm – then we stopped for lunch.) Departed Friars Alp at 2.00pm, reaching the top of Mt. Anderson at 2.30pm. Climbed to gap between Twynam and Little Twynam and skied down to the junction of Spencers Creek with the Snowy River in only 12 minutes.
Friday August 24.
Morning weather looked bad after mild night. Decided to cancel planned trip to Twynam and to go to Perisher Hut. Sky looked wicked. Wind strong from NW caused severe smoking of the fire in Pounds Hut. Departed hut at 11.00am. Followed up Snowy River to Charlottes Pass. About Blue Lake Creek, wind and mist came strongly with cloud moving fast over Main Range & very dark looking, but conditions only mildly severe. Ran down Charlottes to Chalet and moved down to Perisher Hut in increasing & wet snow storm. Practiced on Perisher slope in afternoon. Storm increased.
Perisher Hut, 24 August 1945
Perisher Hut (Photo No. 7) well constructed and lined with 3 ply wooden sheets. Hut very good but had insufficient heating. Three people from Hotel heading for Chalet arrived 7.00pm very wet. They dried out and moved on about 8.00pm. (Perisher Hut no longer exists, but was located in Perisher Gap beside the road to the Chalet, possibly near the present location of the loading station of the Eyre Ski Lift. It provided a base for touring around The Paralyser [Photo No.9] as well as around the Perisher Range.)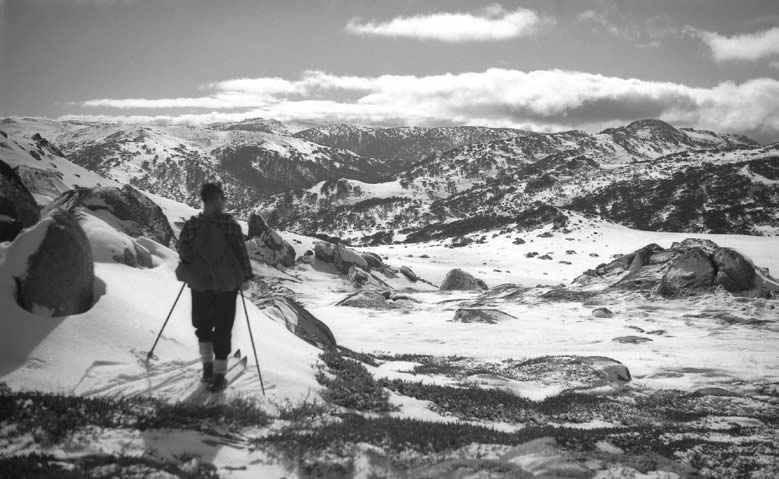 Saturday August 25.
Departed Perisher with wet snow falling at 9.30am. Skied to below Smiggins then walked. After Smiggins (Photo No. 8) weather fined up but was still bad on the tops. Arrived hotel about 11.30am. Had bath & lunch. Then on to Cooma (and caught overnight train to Sydney).